Tabard
Label:

Tabard à Lyon

Model:

Cor d'Orchestre

Serial Number:

none

Date of Manufacture:

ca. 1830?

Key(s):

C, F, Bb alto

Valves:

none

Bore:

11.0 mm.

Bell Flare:

single seam, with garland

Bell Throat:

approx. 9.0 cm.

Bell Diameter:

29.0 cm.

Base Metal:

brass

Finish:

raw brass, painted bell
Frédéric and Jean Baptiste Tabard were woodwind and brass instrument makers in Lyon, France during the first half of the nineteenth century. Jean Baptiste was born in Lyon on January 30, 1779 and died at the same place on November 11, 1845. He is credited with establishing the firm there in 1812. The same year he married Émile daughter of Jacques François Simiot, another instrument maker in Lyon known for several woodwind inventions. The trade mark of Simiot & Tabard is also reported. Dates for Frédéric are unknown but the firm of Tabard flourished in Lyon until 1848, about three years after the death of Jean Baptiste.

There are many examples Tabard instruments in major collections throughout the world. The museum of Cité de la Musique near Paris has 14 instruments including two Cors d'orchestre (inventory numbers E.980.2.269 and E.980.2.270) estimated to have been made in 1830 and attributed to F. Tabard and one Cor omnitonique (E.995.1.1) ca. 1820 attributed to Jean Baptiste. The Cors d'orchestre have eight crooks and one coupler.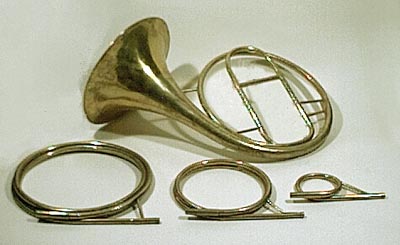 The label on the bell garland is Tabard à Lyon and is in script. Other Tabard instruments are engraved with the same words in block letters flanked by two maltese crosses. The letters OI are stamped on the cross bar of the tuning slide for no apparent reason.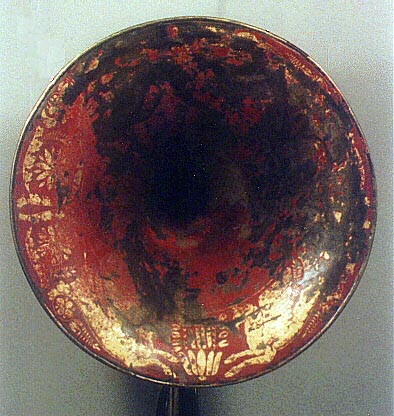 It is said that the custom of painting the bell originated with horns used in the hunt because the glint of sun on the raw brass would startle the horses. When horns were brought into the concert hall the custom continued with elaborate decorations. These beautiful mythological winged horses are less common than the floral or geometric patterns usually found on painted bells. The paint on this bell has been well worn with playing and probably also damaged by the removal of dents and creases over the years.
A sturdy wooden box is required to store and transport the natural horn with its assortment of crooks and couplers. The latches, lock and handles are characteristic of the period. The box lid contains a handy compartment for carrying music, slide grease, valve oil (well maybe not), Blistex and other horn requisites. Unfortunately the various slots for crooks and the main body of the horn have been removed from this box but they will in time be carefully restored.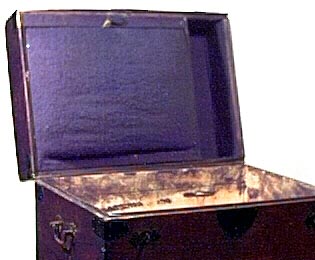 References
Cité de la Musique

William Waterhouse, The New Langwill Index of Wind Instrument Makers and Inventors, pub.Tony Bingham, London 1993


---
---