The artist Ulrich Augustus (U.A.) Hoegger was born in Switzerland in July, 1844.
1
After studying art in Zurich he emigrated to the United States in 1878 and settled in Philadelphia where at first he made his living as a sign painter. He and his first wife, Maggie, had one daughter, Katharine, born ca. 1875.
2
In 1881, he remarried, and he and his wife, Emma P., had two daughters: Emma P. born June, 1881, and Freda A. born May, 1889.
3
Hoegger also had a son who lived in Munich and won some distinction of his own in the arts and letters. Circa 1883, Hoegger established his own salon and studio in the Kensington section of Philadelphia:
U.A. Hoegger, Artist, 1723 Germantown Avenue

About the most noteworthy among Kensington's leading establishments devoted to the production and sale of the arts, is the spacious and attractive establishment of W.[sic.] A. Hoegger, 1723 Germantown Avenue. This is a large place, and has an exceedingly large patronage; an extensive and splendid assortment is always displayed and every article sold is warranted as represented, purchasers being assured of honourable dealings and prompt and polite attention in every instance here. This business was established over eight years ago.

The establishment occupied being about 20x20 feet in dimensions, the studio being in the rear, where all kinds of crayon work is done, crayons and pastels being likewise a specialty, while picture frames are made to order, re-gilded equal to new, and satisfaction guaranteed in every instance. Mr. Hoegger is a native of Switzerland, a man of energy and enterprise, thoroughly reliable in his dealings, and in short well endowed with the qualities that bespeak success in business life.

4
His most famous creation was a painting that he would name "Verstummt" ("Silenced"):
Hoegger began painting "Verstummt" in 1889 and finished it after eight years of work and study. Originally it represented a room in a conservatory that had been partially destroyed by fire. To have a correct working model the artist constructed a frame room designed and furnished after the fashion of a musical salon. This was set on fire and partially burned, the ruins serving as a model for the picture. The picture showed eight charred musical instruments, fragments of music, and damaged furniture. Two features were a large 'cello and a picture of Beethoven. In 1904 a fire occurred in Mr. Hoegger's studio, then at 2514 North 39th street, in which that half of the picture showing the door and furniture of the music room was partly destroyed. This the artist had cut out and allowed the significant features only to remain.5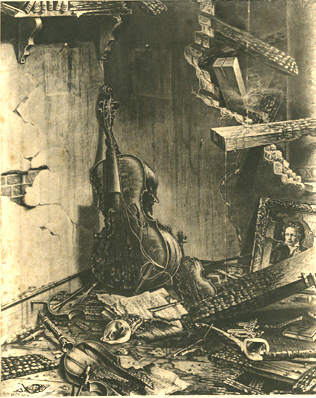 In 1905, following the fire that partially destroyed his most famous but ill-fated creation, Hoegger had a black and white engraving produced of the remaining portion of the work. This print was published by Max Zeitler of Philadelphia, engraver of the Great Seal of the United States.
(Click for larger view)
Three years later the painting proved to be eerily prophetic:
ARTIST BADLY BURNED TRYING TO SAVE PAINTINGS Famous "Verstummt" and Other Works in Hoegger's Studio Are Destroyed

"Verstummt" (Silenced), a painting that for years inspired artists and musicians, was destroyed by fire yesterday [January 2, 1908]. Its creator, Augustus Hoegger, of 2337 North 31st street, was so seriously burned that death may result.
The fire which started in Mr. Hoegger's studio yesterday also burned other paintings valued at $100,000.
Mr. Hoegger's daughter, Mrs. John Shankland, says her father was going to meet her mother, who had been away on a visit, and had just stepped into the studio. She heard him cry fire and, running to the studio door, tried to open it, but was unable to do so. She sounded an alarm and neighbors responded. A young man, a stranger, jumped from a car, ran into the house and placed himself at Mrs. Shankland's service. She directed him through the burning parlor to the studio door, and together they broke it in. On the floor lay the artist burned and unconscious. He was dragged from the room and sent to the Women's Homeopathic Hospital.
The first floor of the house was burned out.
Among the paintings destroyed was the Madonna, one of Hoegger's more recent works, of which he was especially proud. The striking feature in this picture was the representation of the Christ Child in sleep. Few painters, it is said, have attempted such a work, owing to the difficulty of portraying a slumber that does not suggest death. In working out his painting Mr. Hoegger used as his model for the child his own grandchild, Mrs. Shankland's son.
Mr. Hoegger is a native of Switzerland and received his education in art at Zurich. He has a son in Munich, who has won some distinction on the Continent in the field of art and letters. 6
Ulrich Augustus Hoegger was himself "silenced" as a result of the burns he received in the fire that destroyed his studio and most famous painting.
7
See also:
AskART.com
,
liveauctioneers.com
, and
Arcadja.com
for other examples.