The horn shown above is an early Selmer compensating double horn with ascending third valve. It is a "compensating" horn in that the B♭ valve slides are also employed for the F horn along with small additional slides to compensate for the longer F horn. The first such instrument was built by the maker Jerôme Thibouville-Lamy in 1925 (shown at right) and tested by Louis Vuillermoz. It had a piston thumb valve and a more traditional French wrap than the Selmer horn displayed here.
The Selmer horn also has the typically French three Périnet pistons but a peculiar gear-driven rotary thumb valve. Like the Thibouville prototype it also features a detachable bell fitted with a bayonet mount. Edouard Vuillermoz made the following comments:


My son Louis is the promoter in France of the double horn in F and B-flat or C with third descendng or ascending piston, which combines all of the scales of low and high notes and whose practical use does not upset horn technique at all This instrument is capable of performing the greatest services to horn players - I have adopted it myself, and it will surely be used exclusively for some time...


Louis-Edouard Vuillermoz

(1869-1939) was born on February 13, 1869 to Quingey, not far from Besançon (Doubs). At the age of nineteen, after serious musical study in Besancon, he entered National Conservatory of Music and Declamation in Paris where he studied horn with Jean Mohr. He was awarded first prize in horn in his first concours in 1889 and as a result was admitted to both the Concerts Cologne and the Opéra Comique. Three years later he assumed similar postions at the Opéra and Société des Concerts, du Conservatioire where he succeeded François Brémond and Fernand (Louis-Philippe) Reine as Solo Horn
He left Paris after fifteen years to become Solo Horn in the orchestra in Monte Carlo under Léon Jehin and remained there for twenty years. In September 1925 he was invited to return to Paris to his position of Solo Horn at the Société des Concerts.. There he was granted the rare honor of performing as a soloist in the Villanelle by Paul Dukas.

In 1927 Vuillermoz transcribed a series of 10 songs for horn and piano as exercises in transposition

Dix Pièces MéIodiques à Cangements de Tons,

published by Alphonse Leduc. In 1934 he succeeded M. Reine as professor of horn at the Conservatoire.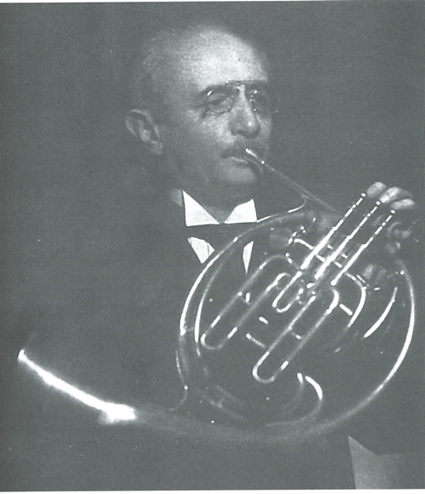 Edouard Vuillermoz (1936)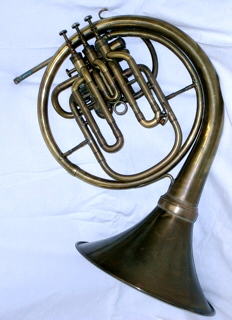 The prototype Louis Vuillermoz Model of 1925 built by Thibouville-Lamy. Note the piston thumb valve.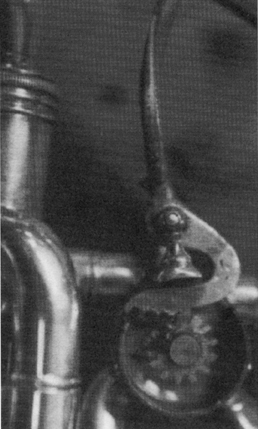 Above, the geared thumb valve linkage found on the Selmer Vuillermoz Model double horn.